The oomph for this organizational project came from the lovely Alicia of
"La Famile"
She started the "happy day project" where each wednesday she announces a new challenge to help make your day happy. This last weeks was to organize something.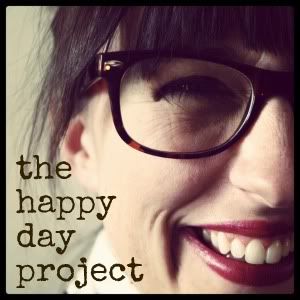 Now, i wish i could say that the real challenge for me was
finding
an area in my home that needed some help in this department but the truth is, our whole, entire house is in need of organization.. Which is why, in fact, we are slowly working our way through
Organized Simplicity
. But....i was lagging in motivation until i remembered the happy day project! yay! i wanted to have a happy day so i tackled this armoire in our living room.
i wish i would have taken a before but just think "stuffed to the brim...glassware precariously stacked on top of cake plates, baskets and candlesticks...trays, fake greens, tea cups. squished in between..." and you'll get a good mental picture.
Here's what the cabinet barfed out. ;)
2 hours later.....Ta- Da!
Yay! i can see to the back of the cabinet!
And here are some pics of what is leaving our house. mmm feeling lighter and happier already. ;) So, thanks Alicia for the great challenge! If you want to participate, she has a new Happy Day project for today!
Look here
:)